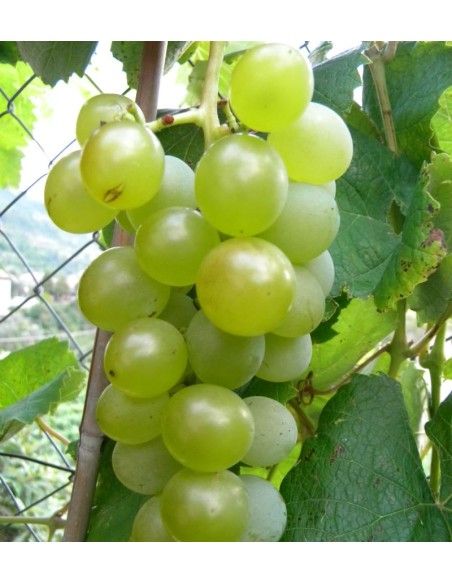 Old varieties with large leaves adapted to be planted close to homes, to form arbors. The fruit has a distinct strawberry flavor emanating pleasantly in the air.
For orders over 500€ ask us for a quote.
ATTENTION: shipments will start from October 23rd for potted plants and from the end of November for bare root plants, except for delays due to adverse weather. In case of multiple orders, please consider the timing of the bare root plants.

Grape berry color

White

Maturation period in Northern Italy

1st decade of September, 3rd decade of August

Maturation period in Southern Italy

3rd decade of August

Grape

medium, round, with seeds

Flavor

aromatic, strawberry

Bunch

indicative weight: 250-400 gr, little, straggly

Use

Juices, jams, table, withering

Breeding

creeper, espalier, pergola, pot

Where to plant

city, flat land - under 200 mt, hill 200-500 mt

suitable for

balconies and terraces, family vineyards, gardens, professional vineyards, vegetable garden

Deseases resistance

high

downy mildew bunch

high

downy mildew leaves

high

powdery mildew leaves

medium high

powdery mildew bunch

medium high

botrytis

medium high

Phytosanitary treatments

From 0 to 2 treatments with sulfur-based products, with the possible addition of copper, before and after flowering.

Other

old variety